Middle Tennessee Pharmacy Services is a proud supporter of Youth Villages Backpack Hero Program. Youth Villages works with children and young people across the U.S. who struggle with emotional, mental and behavioral problems and provides a support system for their families to help improve long-term success. The program reaches more than 25,000 children, young people and families each year. This number will continue to climb with the help of individuals and communities like ours. MTPS will be collecting backpacks and school supplies now through July 29.
For more information on how you can help, please contact Julie Abbott Julie.abbott@youthvillages.org
or visit www.youthvillages.org/backpacks.
Drop-off sites:
MTPS
661 E. Lane St.
Shelbyville, TN 37160
931-684-9987
Youth Villages Office
3310 Perimeter Hill Drive
Nashville, TN 37211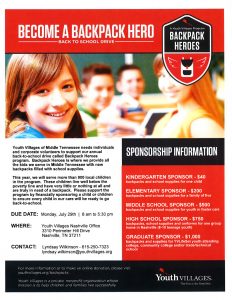 Click the photo above to enlarge